For current TFS ALERTS click here
For Tasmania Fire Service bushfire safety and planning information click here.
New Australian Warning System rolls out in Tasmania
In 2021 TFS rolled out the new Australian Warning System.
The changes include the way bushfire warnings are displayed on the TFS website and by our partners, including TasALERT and ABC.
Advice (yellow),
Watch and Act (orange),
Emergency Warning (red), and
Smoke Alert (grey)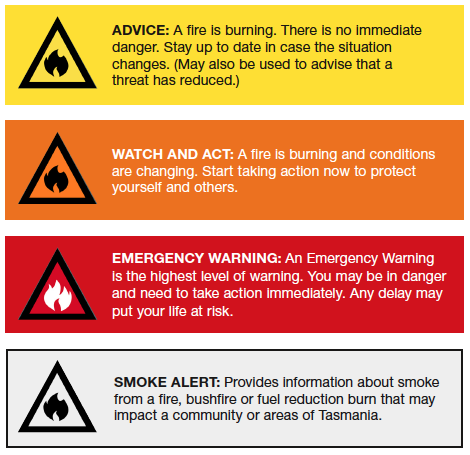 While the colours and icons have changed, the meanings of the levels have not, and incident controllers do not have to do anything differently when activating a warning level.
These changes are part of a nationwide review of the Australian Warning System. They are designed to bring consistency across Australia to the way incidents are displayed, with most states and territories working towards implementing them this month.
Over time, the Australian Warning System will also be used for other hazards like floods and storms.
Further information about the Australian Warning System can also be found on the Australian Institute for Disaster Resilience website: www.australianwarningsystem.com.au